Main content starts here, tab to start navigating
Menus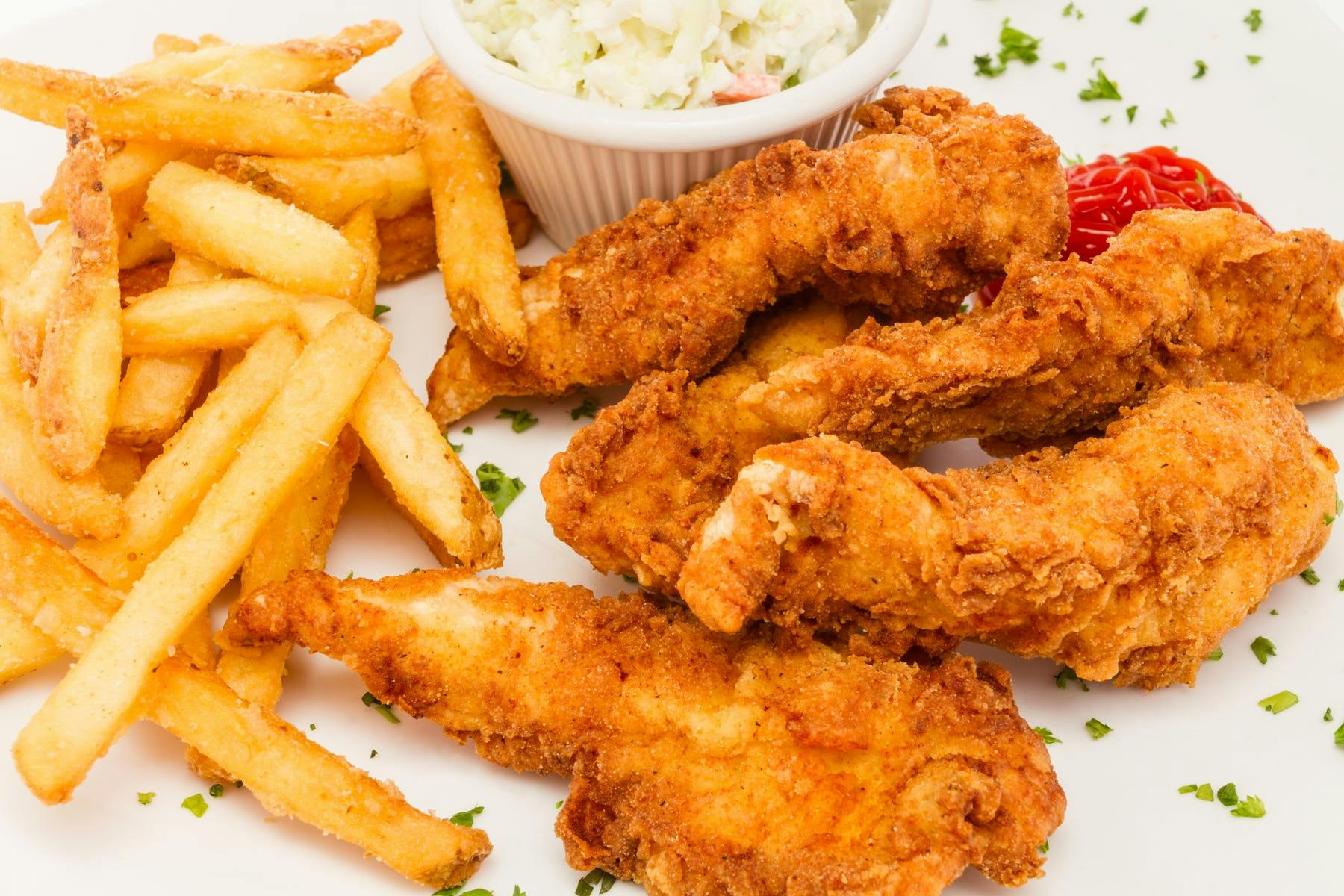 Slide 1 of 2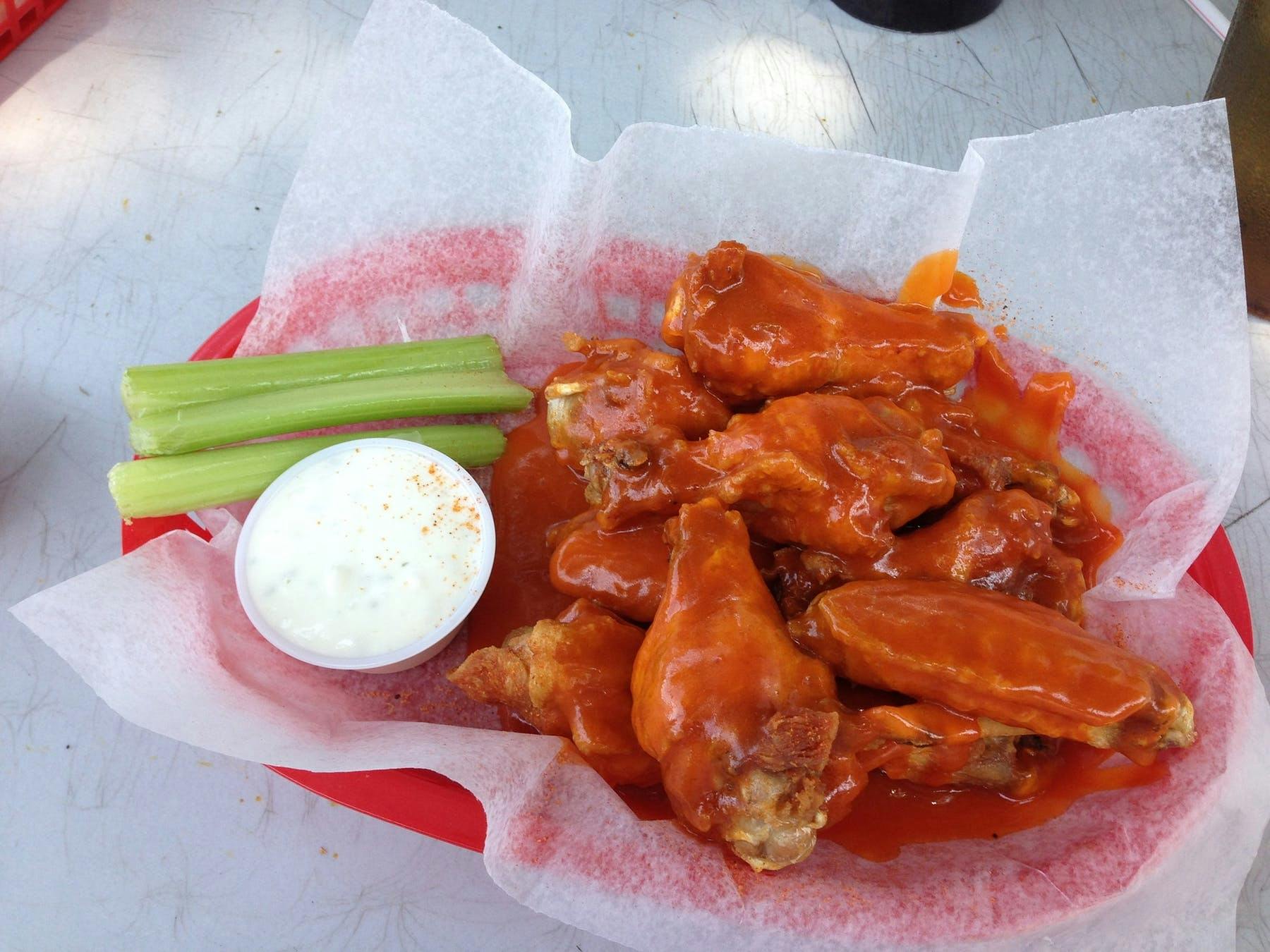 Slide 2 of 2
Wings
Our piping hot, delicious wings are served with celery, carrots and your choice of Blue Cheese or Ranch dressing
Hint – Buffalonians go with Blue Cheese

Mild | Medium | Hot | Extra Hot

Our wings can be ordered Regular, Crispy or Extra-Crispy. Let us know how you like them.

Traditional Buffalo Chicken Wings

10 Wings $12

20 Wings $22

30 Wings $31

50 Wings $49

100 Wings $94

Boneless Chicken Wings

10 Wings $11

20 Wings $20

50 Wings $47
Specialty Sauces
Garlic-Parm

Perfect Blend of Garlic, Butter, and Spices.

Kickin Carolina BBQ

Honey Barbeque & Hot Sauce Unite To Create a Delicious, Mouth Watering Taste.

Mango Habanero

Sweet Meets Spicy and Lives Happily Ever After.

Rajun Cajun

Seasoned with Cajun Spices and a Rajun Hot Sauce.
Fried Avocados

Crispy and crunchy breading combined with the smooth creamy goodness of avocados. Served with your choice of sauce.

$7

Fried Pickles

Our fresh pickles tossed in a parmesan coating fried to a crispy perfection. Served with a side of ranch or blue cheese.

$7

Pizza Logs

A Buffalo Original, Gooey mozzarella cheese and crispy pepperoni stuffed inside a golden-brown crust. A Must Have! Served with your choice of sauces – Sauces include, Marinara or any of the Wing Sauces.

3 Pizza Logs $6

6 Pizza Logs $11

Mozzarella Sticks

Each serving comes with 6 Mozzarella Sticks and Marinara Sauce.

$7

French Fries

Golden Crispy Fries Served to Perfection.

$5

House Chips

Our House Specialty..... Deep fried Potato Chips: Crisp, Salty and Sweet.

$5

Onion Rings

$7

The Hot Buffalo Works

Restaurant Only For any of the above items, smother them in our Famous Hot Buffalo Works. Your choice of Ranch or Blue Cheese, our original Buffalo hot sauce, topped with melted cheese.

Additional $3
Beach Party Platters $159
Perfect for the Beach Party or Large Group Gathering - Great Savings.
100 Traditional Wings

(Any Flavor)

50 Boneless Wings

12 Pizza Logs

Choice of Two:

Mozzarella Sticks, French Fries, or Onion Rings
Drinks
Enjoy a Cold, Refreshing Brew. We Proudly Serve 8 beers on tap, a Few From the Locals and One Brewed in Buffalo.
Download PDF
Beers on Tap
Coors Light

Light Lager Cold Brewed in the Beautiful Colorado Rockies

Pint $3

Pitcher $10

Miller Lite

The Original Pilsner, Taste Great, Less Filling

Pint $3

Pitcher $10

Labatt Blue

Originated in Canada, Headquartered in Buffalo. Crisp, Clear Lager

Pint $4

Pitcher $13

Blue Moon

White Belgian Wheat Ale, with Orange Peel

Pint $4

Pitcher $13

Stella Artois

A Refreshing Belgian Pilsner, Served in the Regal Chalice

Pint $4

Pitcher $13

Red Oak

Brewed in North Carolina, a Fine Amber Ale

Pint $5

Pitcher $16

SweetWater 420

Extra Pale Ale Brewed Down in Georgia

Pint $5

Pitcher $16

Local Beer

Rotates seasonally

Pint $5

Pitcher $16
Bottles and Cans
Corona Extra

Pabst Blue Ribbon

Modelo

Michelob Ultra

Bud Light

Land Shark

Miller Lite

Coors Light

Abita Purple Haze

Dog Head Fish IPA

Goose Island IPA

White Claw

Twisted Tea
Wine
Served by the glass $6

Reds

Pinot Noir

Cabernet Sauvignon

Whites

Chardonnay

Pinot Grigio

White Zinfandel